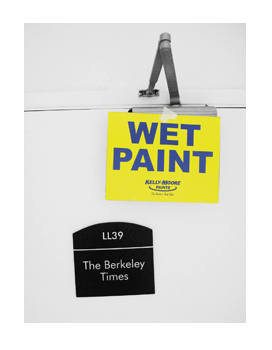 The Berkeley Times is a new weekly newspaper for the people in Berkeley. The Berkeley Times is being produced by a newly established non-profit organization. The chief editor is Todd Kerr, who was formerly the Associate Editor of the Piedmont Post.
I picked up Vol 1, Issue 1 at my son's Elementary School today. The editors say that full production will begin in October. The Times was about 20 pages, and covered many stories regarding Berkeley's schools, high-school sports scene, local arts, and other community news. The tone was upbeat.
The Berkeley Times is available via subscription for $50 a year for 50 issues, and they hope to get at least 1000 subscribers to break even. It sounds like the Times will be available at local newsstands.
Berkeley previously had a free weekly newspaper called the Berkeley Daily Planet which recently stopped newspaper production and moved to be online-only. However I know many people who stopped reading the paper due to it's one sided opinions on Berkeley urban development. The Berkeley Daily Planet purposely avoided covering any local school issues, which doesn't make sense to a parent like me.
It would be nice to have a local newspaper again. Let's hope that the Berkeley Times does well.
Tags: berkeley